There's no doubt that wrangling the decision over the most suitable care for your parent can feel like a mammoth task: one in which there are no winners.
The result of this decision often leaves you with a hefty dose of guilt. While outsiders can easily see the logic of the situation, and therefore often see it as a clear-cut decision, you feel the emotion.
It's difficult to pull out the different contributing factors and assuage the guilt. However, as we've learned from our experience of countless adult children dealing with the guilt of putting a parent in a nursing home at our nursing homes in Somerset, there are ways to manage the guilt effectively and come to feel content with your decision.
How to Deal With Guilt Over Nursing Home Placement
Realize that you didn't cause your loved one's illnesses or age-related decline. Whether facing age-related issues or a progressive illness like Alzheimer's or Parkinson's, your loved one would still have to deal with their declining health whether you continued functioning as their sole caregiver or chose to bring in outside help.
Understand that professional care is often a necessary next step. A higher level of care provides both increased safety and comfort for an aging or ill loved one. Nursing homes don't accept just any seniors. These long-term care facilities conduct thorough needs assessments of potential residents prior to move-in. If your parent is admitted because they require skilled nursing care and consistent supervision, then a nursing home is the appropriate setting for them. Yes, there are alternatives, such as around-the-clock in-home health care, but they are often cost-prohibitive. (Keep in mind that professional help is also necessary for you to avoid caregiver burnout and have a life and relationships outside of caregiving.)
Take time to acknowledge and appreciate that you are doing the best you can. Being the primary caregiver for a parent is a huge responsibility. We must make decisions about situations that we've never encountered before and handle matters that often seem to have no right or wrong answers. Once we've made a careful decision, we must endure the consequences. This may mean lots of fast-paced changes or it might mean maintaining the status quo for the time being. You've taken on a difficult role and you're doing your best to make decisions based on the information and resources you currently have.
Learn to understand that you can't live life for other human beings. You can only help so much. Total control of events isn't in your hands. There might not be a solution that makes everyone happy or solves every problem. Do your best to handle what is within your abilities, and then let the rest go.
Realistically assess your options. Most elders will be resistant to the idea of entering a nursing home. Long-term care facilities get a bad rap, but they provide a very important service for families. If you come to find that your loved one is being cared for in a substandard facility, or that they may be experiencing abuse or neglect, contact the long-term care ombudsman responsible for your area.
If your parent is being well cared for, then let the facility do its job. The bulk of your loved one's care is the nursing home's responsibility now. Visit often, advocate for them, and do small things to brighten their day and make their life easier, but then move forward with your own life. You'll have more energy and quality time to devote to all your relationships, and that benefits everyone.
What many family caregivers don't realize is that your role doesn't end with nursing home placement. You will still be part of their care team after they move. They will still need you as their advocate. Accept this newly defined caregiver role and the benefits it provides. A commitment to a life of your own will make you a more refreshed caregiver and protect against caregiver burnout. A reputable nursing home will provide your Mom or Dad with the care and engagement that they require. That's a winning situation for both sides, so put aside the guilt and regret.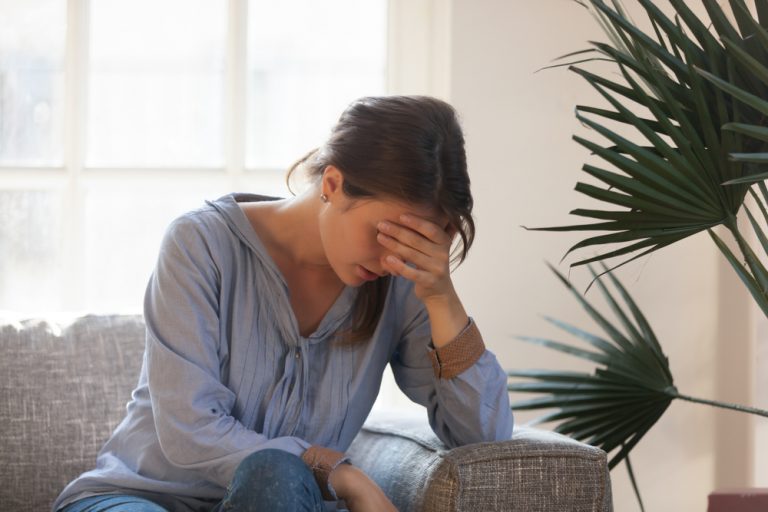 Remember: You're making sure they'll be getting the level of care they need.
Moving someone to assisted living means you've failed to take care of them. doesn't
It means you're making a difficult decision to prioritize their health and safety and get them the level of care they need – a level that may no longer be possible at home over the long term.
Most likely, you'll still be spending a lot of time with them, checking in with the staff, advocating for their needs, and managing their overall care.
You taking good care of your older adult and you certainly haven't abandoned them. are
How to Help Yourself Adjust to this Change
First, acknowledge that you're coping with a significant adjustment. While this doesn't change the situation, it can help to give yourself permission to pause and understand the challenge you're facing.
Research shows that the caregiver burden can continue after nursing home placement, due to new challenges and demands. This demonstrates that although the placement may have been necessary for the care of the loved one, it won't automatically "fix" the primary caregiver and make everything okay.
Find little, and perhaps new ways, to express your care and love. Maybe you can bring a newspaper or a flower every day to your loved one.
Identify someone to whom you can express your concerns, both outside of the facility and within it. Communication is important, and most facilities want to know what your concerns are. Learning how to advocate for your loved one is important and necessary, especially when he or she has dementia.
Acknowledge that even though your loved one may not have wanted to live in a facility, there could be some benefits to nursing home care. Although you may feel that nothing can compare with the level of care you gave your loved one at home, keep in mind that the care at a facility may still be good, quality care, and it's available 24 hours a day. Some people find that their loved one actually improves in a facility because she's getting the care consistently that family members wanted to provide but just couldn't maintain effectively at home.
Help your loved one adjust to the facility. Work together to identify meaningful activities and routines for him or her to help facilitate the adjustment.
Consider developing a life story to share important people, events and information with the staff about your loved one.
Remind yourself of the ability now to focus, not only on your loved one's physical-care needs but also on visiting and building your relationship with him or her.
Most caregivers feel it's a privilege to care for their loved ones, and don't want to be relieved of the job of providing the care, even if it's physically and emotionally taxing. Acknowledging the possible mix of emotions including grief, loss, guilt, and relief, may allow for a healthier adjustment after the nursing home placement of a loved one.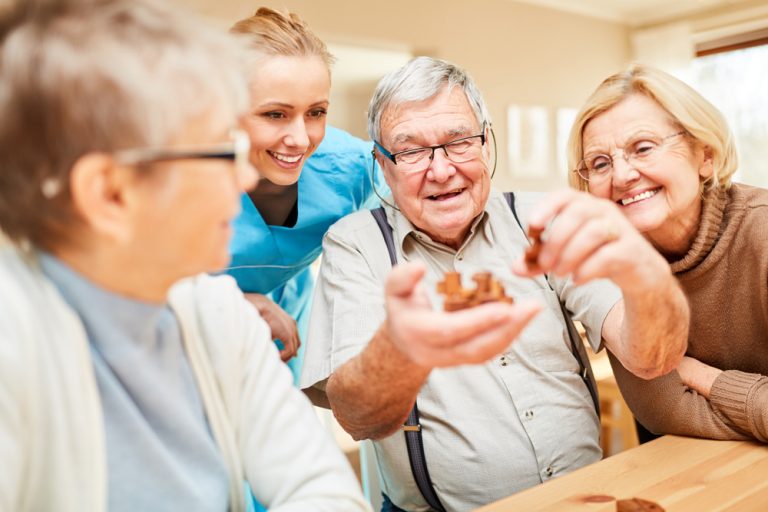 Find the right home and care
One thing that will make you feel less guilty about moving your loved one into a nursing home, is knowing that you put them in the best facility. Don't wait until the last minute to scout for a nursing home. The more time to make a decision, the less stressful you will be, and the easier it will be to find the right nursing home.
Do your due diligence when selecting a nursing home so that you can find the best one. Nursing homes have improved over time but you can't always be too sure. So, learn about what to look for in a facility, to make sure your loved one gets the best care. Understand the different nursing home costs and make sure you visit several facilities before you make a decision.
If you are unsure about any of these decisions it's important to seek out professional aged care advice.
Take care of yourself
Caring for someone can be a full-time job and can have negative effects on your own wellbeing, including your relationships with friends and family. Allow yourself to have a good time, this is likely
what your loved would want you to do. Although it is easy to neglect yourself when you care for a loved one, it is important to remember to look after yourself too.

---